Johnny McPhail bio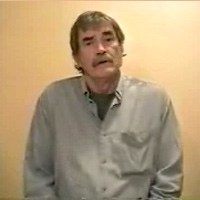 DOB: 12/24/41
Occupation: Actor/Freelance CPA
Hometown: Burlington, NC
Relationship to case: Victim's cousin
Excerpt: "[Johnny often gave Missy] advice on matters that she didn't feel comfortable discussing with…"
John McPhail was born in Burlington, North Carolina, to Weston and Judith McPhail on December 24, 1941. Weston worked as a teller at the Carolina National Bank, and Judith was a homemaker.
Johnny, the eldest of four children, attended North Burlington High School, where he was class president for his freshman and sophomore years. he was also on the yearbook staff and played varsity basketball.
A hardworking student, McPhail showed an aptitude for mathematics. He matriculated at Duke University in Chapel Hill, N.C., in the fall of 1959, where he majored in economics and received his B.S. in 1963.
He entered Duke's Fuqua School of Business the next fall, but left after the first semester to join the accounting firm of Malmouth, Howell, and Stern in Chapel Hill. While working as a junior manager at the firm, he met Adele Howell, and they were married in June of 1967.
In 1972, Johnny and Adele moved to Oxford, Mississippi, where he and college friend Arthur Elias established a small bookkeeping and accounting service.
The McPhails' only child, Ruth, was born in 1973. She won a sports scholarship to Stanford University in 1991, and settled in the San Francisco area after graduating with a degree in computer science.
Adele has worked in the Spanish department of the University of Mississippi as an administrative coordinator since 1980.
Johnny has served on the Oxford Chamber of Commerce and, with his wife, helps coordinate the Oxford Public Library's annual book sale and fundraising event.
McPhail's sister, Anne, 53, is an entertainment lawyer based in Sherman Oaks, CA. His brother Tom, 49, lives in Burlington and works as a contractor. Colin McPhail, born in 1951, was killed in combat in the Vietnam War.
Some of McPhail's extended family also live in Oxford. His cousin, Jonah Dale, and his wife Rachel lived in town with their daughter, Missy.
In 1980, Rachel Dale left Oxford, and McPhail began to take a special interest in Jonah and Missy. He often joined them on fishing trips and became very close to Missy over the years.
McPhail was a confidant and father figure to the young woman, often giving her advice on matters that she didn't feel comfortable discussing with her real dad. Most often, these discussions revolved around Missy's romantic relationships with unsavory men.
McPhail now devotes quite a bit of energy to acting. Always a film fan, he developed an interest in acting, and he leapt at any chance he got to read scripts, be involved with stage plays, or work on film sets.
He is mostly retired from his accounting practice, except for a few clients here and there, and devotes as much time as he can time to auditions and script reading. He has won roles in several Oxford stage productions and has worked as a stand-in for Jon Voight in the Rainmaker and appeared in a scene with Debra Winger in the soon to be released Big Bad Love.
But no matter what he was working on, Johnny has always been quick to respond whenever Jonah or Missy needed help with anything, dropping whatever he was doing to lend a hand in any situation.