Roger Hammond bio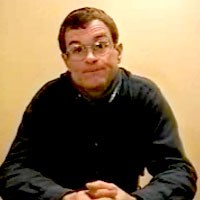 DOB: 10/31/74
Occupation: Sales Manager, Farrell Motors
Hometown: Oxford, MS
Relationship to case: Victim's ex-husband
Excerpt: "[Roger] flew into a rage and began ransacking the…"
Roger Andrew Hammond was born in Oxford, Mississippi on October 31, 1974, to Thomas and Gloria Hammond. The Hammond family was an upper-middle-class fixture in Oxford well-known because of their car dealership, Farrell Motors, which was founded by Gloria's father, Big Jim Farrell, and passed on to Thomas when Big Jim retired.
The elder Hammonds were sharply divided on the subject of their young son. From the time Roger was a boy, it became apparent that Thomas Hammond felt his son lacked discipline and substance. However, Gloria refused to hear any criticism directed towards the young boy on whom she doted.
Gloria herself had been spoiled by her parents and had grown into a woman determined to get her way and be the center of attention, and she very quickly began to mold Roger in her image.
When he was in fifth grade, Roger got a paper route, but he rarely finished his route, often threw the papers in the bushes, and never bothered to collect payment from his subscribers. Thomas wanted to discipline him, to make him either collect payment or pay the costs himself. "He's got to learn a lesson," Thomas argued.
But Gloria would allow nothing of the sort. "He was too young to have a job anyway. You shouldn't have made him do that." Ultimately, the Hammond family ended up paying for the trashed newspapers and quietly removed Roger from the route.
By the time Roger had reached high school, his father had pretty much given up hope for his son. Resigned to the fact that his son would never be much more than a problem, Thomas took pleasure in the little bits of determination that Roger might occasionally display.
Roger became a starter at wide receiver on the Oxford High School football team and, although he never lived up to his potential because he frequently skipped practice, Thomas was glad that he at least stuck with the team throughout the season.
During his senior year, Roger began dating Missy Dale. He knew that she had just recently broken up with someone, but when he found himself talking to her on the Square one night, he went ahead and asked her out. After only dating for a few weeks, Missy tearfully informed Roger that she was pregnant. Roger debated what he should do and at one point, he even contemplated leaving Oxford and abandoning Missy.
But his parents found about the pregnancy and Thomas insisted that Roger take care of the situation. "You've done everything you can to avoid your responsibilities all your life, Roger. But this is a life you've just created and you will take care of it!" Roger and Missy agreed that they would wed shortly after graduation and Roger would begin working at his parents' car dealership.
Roger and Missy married on June 12, 1993, set up house, and began to prepare for the birth of their child. Almost immediately after she got pregnant, Missy had begun to question Roger and their relationship. It seemed they fought all the time, he lied constantly, and there were rumors about his infidelities.
However with a baby on the way, Missy went through with the marriage. Now, living under the same roof, the situation just got worse. Roger began staying out all night, and the rumors increased.
Roger had experimented with drugs in high school, rolling joints in his car while they were out on dates and occasionally snorting cocaine before football games. But after their marriage, his drug use increased. His work habits, never exemplary in the first place, deteriorated to the point where other salesmen often said: "it's a good thing Roger is the boss's son because anyone else would've been fired by now."
The one bright spot in Roger's life at this time was the birth of a beautiful daughter, Lydia. Roger immediately began to dote on the young child and, no matter how many drugs he took or how much alcohol he drank, Roger's love for the girl never wavered.
After almost four years of marriage, Missy finally decided that she'd had enough. She left Roger and he was heartbroken, more at the loss of his daughter than his wife. Liddie was the one thing that had kept him anchored and, now, Roger was lost.
He realized his drug use had been the main reason his marriage crumbled and he lost his daughter, so he became determined to clean up. In May 1998, he took a leave of absence from Farrell Motors and checked himself into a drug treatment center in Memphis.
When Roger came back to Oxford several weeks later, he felt like a new man and, although it was too late to mend his relationship with Missy, he was able to stay sober and have wonderful weekend visits with Liddie. He also turned over a new leaf at Farrell Motors and made good use of the natural charm he'd been masking for so long with the drugs. He became known as the man who could close the sale when no one else could.
Despite his successful start at a drug-free life, Roger's friends and family feared it would be short-lived. To their amazement, Roger remained focused and continued to become more responsible. His father wanted to believe Roger had reformed, but at first, Thomas doubted Roger's newfound attitude.
"He's not really clean. I guarantee you that he's doing just as much of that junk as before. He's just covering it up better than he did before." Some people agreed with Thomas that Roger's rejuvenation was all a ruse, but others thought it was sincere.
One person who believed Roger truly had changed was Selena Crosscroft. She met Roger at a Fourth of July picnic in 1999, when Roger had already been on the straight and narrow for about a year. The two hit it off immediately, and they soon began dating.
Selena, who is a social worker, is a fierce advocate for fathers' rights. She feels that too often the father is discriminated against in divorce hearings. "They just automatically give the kids to the mother. It doesn't matter how good a father the man is, he isn't getting the kids," she often says.
Selena quickly fell for the new Roger and, by Valentine's Day 2000, she began pushing to get married. He kept her at bay, saying he wasn't ready to try marriage again. Selena backed off but didn't let the issue drop completely. Roger didn't like being pressured to get married because he believed that's where his problems with Missy first started. He began to withdraw from Selena a little, hoping she would give up on the idea, but she didn't.
Even with the pressure in his personal life from Selena, Roger's professional life was thriving. He was making more sales than ever and, eventually, even Thomas was convinced that his son had finally straightened out his life. On May 1, 2000, Roger was promoted to Sales Manager of Farrell Motors, over the grumbling of a few other salesmen who had worked there for many years before Roger started and felt one of them should have been given the opportunity first.
When Missy heard about Roger's promotion, she contacted him to ask whether he could now afford more child support for Liddie. Missy said she wanted to send Liddie to art classes because she had shown an interest in and talent for drawing and painting. Roger bristled at Missy's request for even more money and refused to increase his child support payments. So Missy went to her attorney, who petitioned the court for an increase, and it was granted. Roger was furious, but there was nothing he could do.
Soon after the child support payments were increased, Roger's friends and co-workers started noticing that he occasionally disappeared for brief periods. Sometimes he left work for an hour or more without explanation, and sometimes he was either late or didn't show up for social events and never said why. A few people secretly wondered if Roger was falling back into drug use, but no one wanted to say it or even think it.
Roger maintained a relatively respectable front until July 18, 2000, and after that day, the people close to him could no longer deny he was in some kind of trouble. On the night of July 18th, Roger decided to go over to Missy's house "just so I can see my daughter."
The impromptu visit made perfect sense in Roger's mind. It was all very simple and mature. However, when he got to the house, it just didn't turn out that way.
He also thought, while he was there, it was very reasonable to ask for the ring that he had given Missy when they had gotten engaged. They were no longer married; he wanted it back, no big deal, especially since she was now getting even more money from him in support payments.
But when Missy refused to give him the ring, he flew into a rage and began ransacking the house. He tore through drawers and jewelry boxes, looking for the ring. A terrified Missy phoned 911 and had Roger arrested. When he was released a few days later, he was told that he had lost all visitation rights because he had terrorized his daughter. Instead of seeing Liddie on every other weekend, now Roger couldn't see her at all.
Roger was tormented by the complete separation from his cherished daughter and the knowledge that she was now frightened of him because he had lost his temper in front of her. He withdrew even more from those close to him. His absences from work and social engagements gradually increased, but no one is sure whether the cause was depression or drugs or both.
When he was at work or a social event, he was usually energetic and happy and seemed like his old self except that, whenever anyone gave him a chance, he would make nasty comments about Missy and blame her for keeping him away from Liddie.
For the past six months, Roger has been alternatively remote and vivacious without warning. Selena believes he is distraught over the loss of his access to Liddie and the unfortunate circumstances that caused it, and she has vowed to stay by his side and help him through this difficult period, no matter what.