Arrest in Hammond murder
Oxford Eagle, Wednesday, March 21, 2001
Ex-Husband Arrested in Hammond Murder
By Loretta Winston
Staff Reporter
Tuesday afternoon, the Yoknapatawpha County Sheriff's Department arrested Roger Andrew Hammond for the January 26 murder of his ex-wife, Melissa "Missy" Dale Hammond.
Roger Hammond, Sales Manager at Farrell Motors in Oxford, was taken into custody without incident and is being held at the Yoknapatawpha County Detention Center.
Hammond, 26, is accused in the strangulation death of Oxford hairstylist Missy Hammond, who was found dead in her home by her father, Jonah Dale, on January 27, 2001. Dale arrived at the home to take his daughter, 25, and his granddaughter, 7, to breakfast and discovered the body in the rear bedroom of the Elm Street residence.
Autopsy results showed Missy Hammond was killed the previous afternoon, and authorities say her daughter Lydia spent the night in the family home with her mother's body.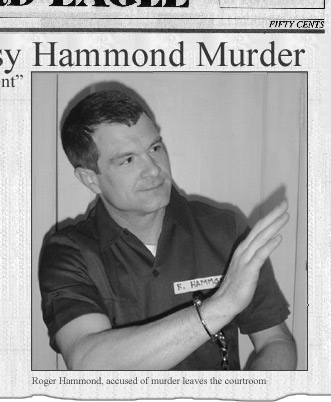 Eight days before her death, Missy Hammond was a victim of the Daylight Burglar, who has broken into fourteen Oxford residences since November 21 of last year.
Nothing was reported stolen from the Hammond residence, but new signs of forced entry at the murder scene caused speculation that the Daylight Burglar had returned and become violent.
"We considered the possibility that this was a burglary-turned-murder," said YCSD spokesperson Elizabeth Jones, "but from early in the investigation, we believed Melissa Hammond was murdered by someone she knew well."
"Strangulation is usually personal," Jones added, "not the split-second reaction of a burglar surprised in the middle of committing a crime."
Investigators executed a search warrant at Roger Hammond's residence on March 2, 2001, and Jones said forensic analysis of items recovered in that search was "critical" in the arrest.
Jones declined to identify the specific evidence that implicates Hammond, but said the suspected murder weapon was among the items.
Jones said the Sheriff's Department believes Hammond murdered his ex-wife to regain custody of their seven-year-old daughter and to collect on a $2 million life insurance policy he held on Missy Hammond.
In a statement to reporters, District Attorney Jake Hood said, "The detectives have done an outstanding job in uncovering the truth of this very difficult case. It is always gratifying, in cases like these where there are numerous suspects and motives but no clear standout, to see the responsible party brought to justice."
Hood declined to comment on whether his office would be seeking the death penalty for Roger Hammond.
Hammond's attorney, Glenn Jones, said his client maintains his innocence. "The Sheriff's Department and the District Attorney may think they've found the truth here, but Roger Hammond is a victim of their overzealous pursuit of so-called justice."
Jones would not specify what Hammond's defense will be, but said his client will not consider any offer of a plea bargain at this time.
Roger Andrew Hammond will be arraigned on murder charges later this week.